Two Property Walgreens Portfolio Closing | Chicago, IL | January 2017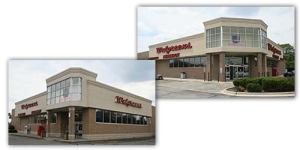 Pharma Property Group (PPG) Closes a Two Property Walgreens Portfolio in Chicago, IL 
Pharma Property Group (PPG) has closed a two property drugstore portfolio located in Chicago, Illinois. PPG retained the exclusive listings and both Walgreens buildings were closed simultaneously within 45 days.
"This was a rare opportunity to purchase two institutional quality drugstores in the Chicago MSA. Each of these locations are located 20 miles of downtown Chicago on signalized intersections with traffic counts of over 40,000 vehicles per day. Both locations have above average sales volumes and are located on irreplaceable corners with strong infill demographics," said Jason Pongsrikul, Managing Partner of Pharma Property Group.
"Our firm was able to retain these exclusive listings and provide the properties maximum exposure through our unique national drugstore marketing platform. Since our firm is the only national brokerage firm with a 100% focus on Walgreens, CVS and Rite Aid properties we have access to the largest pool of active buyers within the drugstore niche. Our reputation within the brokerage sector as drugstore experts also drives our ability to locate drugstore buyers represented by outside brokers with strong client relationships. We ultimately selected an experienced drugstore group who we have closed multiple drugstore transactions with in the past to purchase this portfolio and they were able to close both deals simultaneously within 45 days," explained Mr. Pongsrikul.
"This particular transaction was a great narrative to the advantages of our unique national drugstore marketing platform: capability in sourcing high quality institutional drugstore opportunities, maximum listing exposure to the most active drugstore investors and brokers in the country and our ability to get deals across the finish line with proven drugstore buyers that close," said Mr. Pongsrikul.
___
Pharma Property Group is a specialized national commercial real estate brokerage firm providing investment services for drugstore landlords who own Walgreens, CVS and Rite Aid properties throughout the nation.
Pharma Property Group
5328 Banks Street Suite B
San Diego, CA 92110
Office: (619) 297-0055