Walgreens property for sale today varies greatly from those for sale in the late 1990s and during the 2000s. From the late 1990s to around 2010 most Walgreens for sale were recent built-to-suit developments and the sale was from developer to investor.
The Walgreens for sale were either 20 year or 25 year leases with 50 years in options. These developers typically were preferred developers who built with the intention of putting their store for sale within a year or two time-frame from completion. Some developers would have their property for sale towards the end of the development process with the intention of closing upon rent commencement.
Walgreens properties for sale today is typically between owners that are not developers and can vary in lease term and lease type. Some have absolute triple net leases and some have landlord responsibilities such as roof, structure and parking lot. These lease types and the lease remaining before the options periods directly impact the value of the property. Besides lease structure and lease term remaining, the value of the drugstore for sale is also highly dependent on overall real estate quality, tenant sales and overall likelihood of Walgreens renewing the next lease option.
All Walgreens that are listed for sale have corporate guarantees with CAP rates generally ranging from 5.5 CAP to 10 CAP. Walgreens listed for sale in the 8 CAP to 10 CAP ranges typically have under 5 years of lease term remaining before the next lease option and have landlord responsibilities. Those listed in the 6 CAP to 8 CAP range are typically mid-term leases ranging from 5 years to 15 years before the next option to terminate and can either have landlord responsibilities or have no landlord responsibilities whatsoever. Walgreens for sale in the 5.5 CAP to 6 CAP range typically have over 15 years of lease term remaining and have no landlord responsibilities whatsoever.
CAP rates are a function of risk but also investor supply and demand.
Many investors will not consider purchasing a Walgreens if there are landlord responsibilities. Other investors prefer the higher return of properties that have landlord responsibilities of roof, structure and parking lot. With the drugstore investment property market changing daily, current market knowledge of Walgreens properties for sale makes a critical difference for owners that are active in the drugstore market.
Investors should engage a real estate broker that has not only a strong record of Walgreens property closings but also a broker who is active in the current market and knows the current landscape.
Investors that regularly consider purchasing these properties will usually have some established relationships with real estate brokers that specialize in net lease properties. Many of these net leased brokers sell two or three Walgreens properties each year and have a general focus and knowledge on this type of sale.
Exclusive Focus on Walgreens
Pharma Property Group is the only national commercial real estate brokerage company with an exclusive focus on CVS, Rite Aid and Walgreens for sale. Due to this unique specialization, Pharma Property Group has a superior understanding of the industry which gives their clients an advantage over other drugstore buyers and sellers.
Some owners that have drug stores for sale do not wish to market to the open public and some owners will hire a broker. Since Pharma Property Group is so specialized they are able to deliver both exclusively listed Walgreens and also off-market Walgreens for sale. This access to off-market Walgreens property for sale that Pharma Property Group possesses comes through years of drugstore deal making and relationship building with Walgreens property owners.
Large Inventory of Walgreens Stores for Sale
Pharma Property Group also carries a large inventory of Walgreens for sale and any listings that they advertise to the open public are exclusively listed with only Pharma Property Group having the rights to sell that asset.
Pharma Property Group also has established a large network within the brokerage community to get complete coverage and provide its buyers with full access to all inventory on the market. Pharma Property Group relies heavily on its outside broker relationships to sell its exclusive inventory and to find their buyers additional opportunities to purchase.
How much does it cost to build a Walgreens?
The cost to build a Walgreens building varies depending on if the property is self-developed by Walgreens or if a 3rd party developer builds the Walgreens. Projected future sales of the location is also taken into account to set the rental amount which dictates the value based on current CAP rate levels. Other variables include land cost and construction cost.
Does Walgreens own their buildings?
Walgreens owns some of their locations that they developed internally or have purchased on the secondary market by exercising a right of first refusal pursuant to their existing lease. The majority of Walgreens buildings are owned by private investors, developers and institutions such as REIT's.rchase.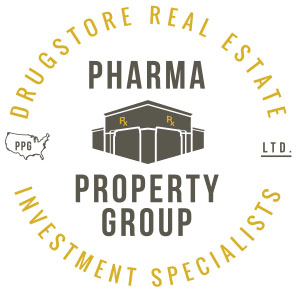 Pharma Property Group (PPG) has over $1 Billion in closing transaction experience and specializes in providing commercial real estate services to landlords who own properties occupied by Walgreens, CVS and Rite Aid. Pharma Property Group is one of the top brokerage firms in the country in drugstore property closing volume and has an unparalleled drugstore marketing platform providing access to the largest pool of drugstore landlords in the nation.
Jason Pongsrikul Pharma Property Group
5322 Banks Street San Diego, CA 92110
www.pharmapropertygroup.com
Office: (619) 297-0055